For pleasure golf players
The natural countryside of South Styria with its charming hills, covered by vines and mixed woodlands, is a splendid backdrop for your round of golf on the green fairways. Starting at the Golden Hill Resort in the village of St. Nikolai, it takes only 20 minutes to get to our partner clubs "Murstätten" golf course and "Schloß Frauenthal" golf course.
Golfclub Gut Murstätten (17,5 km)
Set close to the "South Styrian Wine Road", this golf course will enchant you with its idyllic and tranquil setting. The award-winning international 36-hole "Murstätten" golf course, including woodlands, lakes, creeks and trees, provides an interesting golfing experience and a fabulous nature experience. The Leading Golfcourse" is for golf enthusiasts who are looking for silence, relaxation and joy in life.
Golfclub Schloss Frauenthal (19,5 km)
The first 11 holes are in the middle of a beautiful park of oak trees that belong to the castle Frauenthal. The following 7 holes are set on top of the west Styrian rolling hills with magnificent view to the city of Deutschlandsberg and the picturesque area where the famous Schilcher wine comes from. The 4 stars golf course is for golf enthusiasts who are looking for adventure and variety.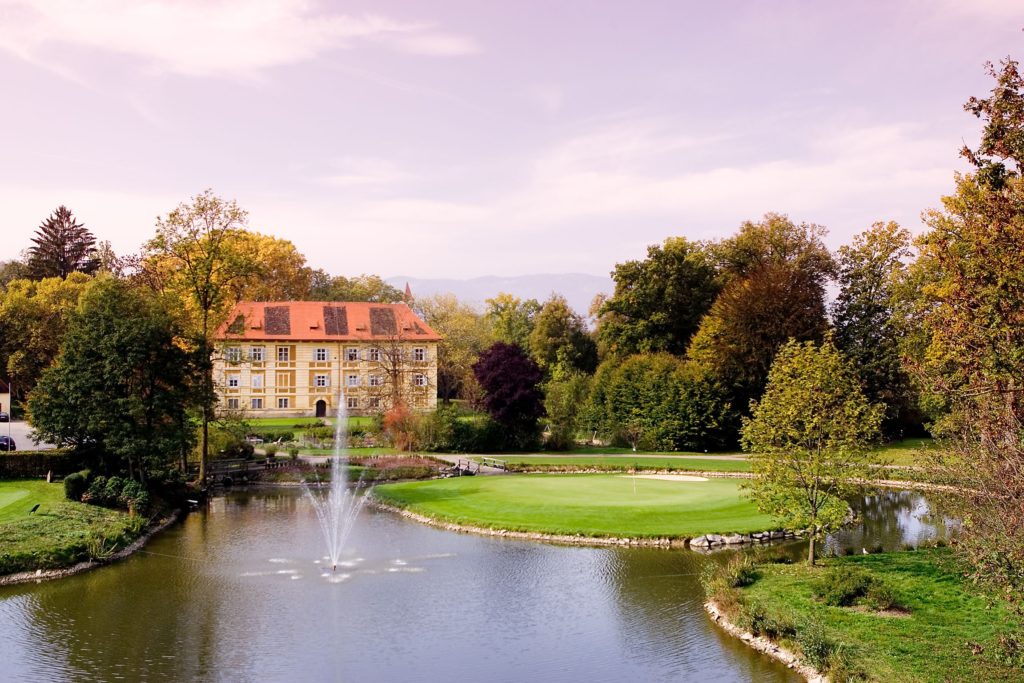 More Golf Courses in the local area
Within a distance of only 60 kilometres
There are four other golf courses, set in attractive countryside, within a distance of only 60 kilometres. Enjoy beautiful rounds of golf and many "Golden Moments" during your golf break in Styria.
Golfclub Murhof (60 km)
An 18-hole course with international spirit.
Golfclub Erzherzog Johann, Maria Lankowitz (50 km)
Situated on the edge of a landscape conservation area, 18 fairways of extraordinary fascination.
Golfclub Gut Freiberg (56 km)
Known as an "oasis of silence", with a castle in the background, Par 72 Champoonship course.
Traminergolf Klöch (59 km)
Enjoy golf on the 27-hole golf course on the Styrian volcano floor.
Packages and und Golden Tips