Golden Hill COUNTRY Chalets & Suites
A magical Place. A Refuge of Joie de Vivre. Multi-award winning. A Treasure amongst the Hideaways Hotels.
The Golden Hill Country Chalets & Suites are so much. And yet so much more. Here in Mediterranean southern Styria, only 25 km from Graz, the true luxury of the good life is at home. Little worlds of wonder open up between lavender, cypresses, wine and pure freedom. Exclusive experience architecture flirts with heart-stopping Mediterranean naturalness. For magical holiday memories. Golden moments. A sigh of relief for the soul. Feel whole-heartedly welcome. In literally the most beautiful place, which you did not even know that you had been missing.
Look forward to five exclusive country chalets and one premium chalet. A breathtaking loft. Private SPAs. Swimming ponds. Infinity pools. All this in harmony with nature, whilst conserving resources. And hosts who love the good life just as much as you do. We welcome you wholeheartedly. True to the motto:
Arrive, settle in and feel the magic.
Barbara and Andreas Reinisch – your enthusiastic hosts
____
BREAKING NEWS
Falstaff "Best of Austria" 2023
Falstaff SPA Awards 2023: Awarded in the category "Hidden Champions".
Award from BEST HOTELS OF AUSTRIA:
1st place – the best hideaway with flair in Austria 2022

Gault&Millau: Awarded in the category "Best Chalets 2023"
Hotel of the year 2023 at LIFESTYLE-INSIDER.com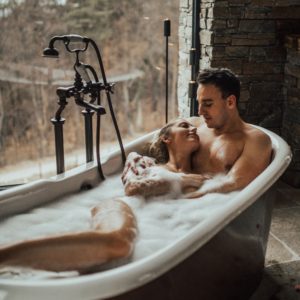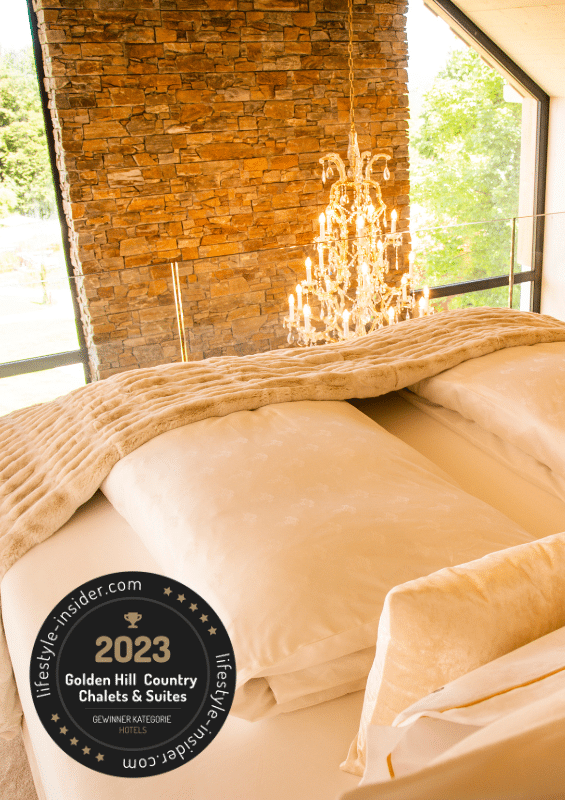 A Rendezvous with Happiness​
Dancing the tango barefoot. Dreaming under apple trees. Losing yourself in the moment. Whatever you want to do or would rather not – our six chalets are made for it. Each one is a gem. Very special. A thousand loving details, exceptional architecture, extravagant interiors, your own private SPA and plenty of space for you and your favourite people await you.
The Exclusive Centrepiece for Special Moments
We can't say it any other way: this house is breathtaking. The perfect retreat for those who are looking for something truly special. 300sqm in size. Flooded with light. Exquisitely furnished. With private spa. Where you can spread out. Let yourself unwind. Bathe in happiness. In the infinity natural swimming pond in front of the loft, which is all yours. Or in the new 12m x 3m stainless steel infinity pool – a pool as a swimming channel in a class of its own.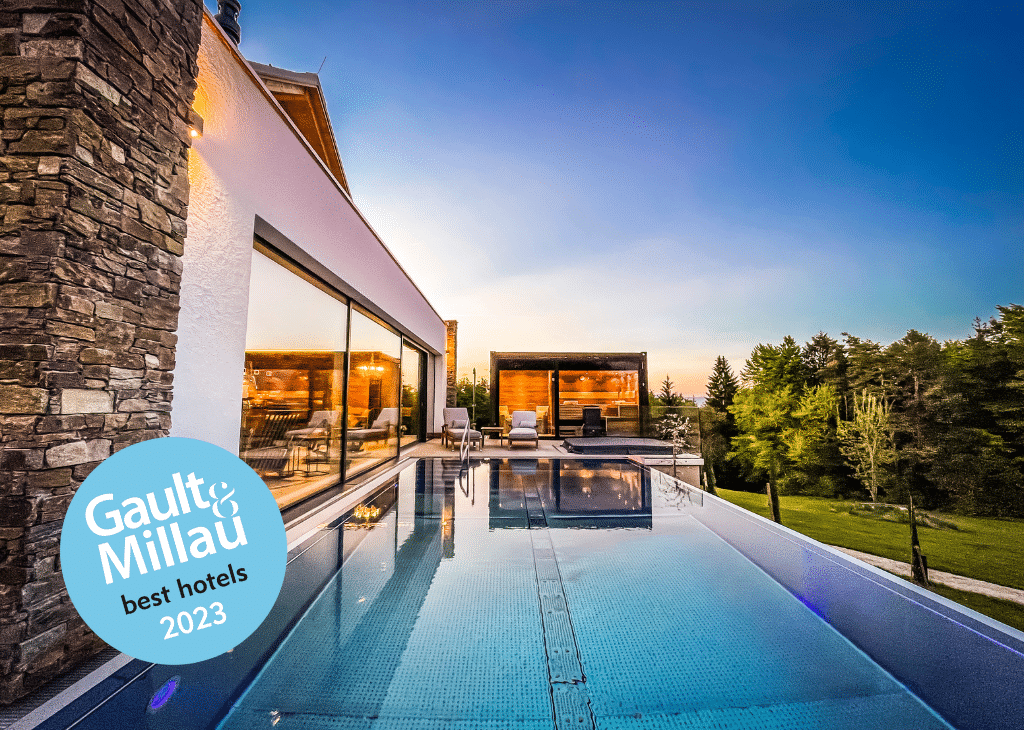 A Treat for Body and Soul
Swim quietly in emerald-green water or feel the tingling warmth on your skin. Sink into mountains of foam or really let off steam: Golden Hill offers countless opportunities to unwind and get active. Our highlights: Private spa in every chalet, the large natural swimming pond, infinity stainless steel pools and fitness and sauna cubes in the middle of the Mediterranean park. Reason enough for being awarded as a "HIDDEN CHAMPION" within the Falstaff SPA Awards 2023. 
Welcome to the Wine and Gourmet Paradise of Southern Styria
The magic of southern Styria is unique. A cultural landscape in the south of Austria that is second to none. The Golden Hill Chalets tower over St. Nikolai im Sausal. The nature park community is nestled in gentle vineyards and home to the country's finest wines. The charm of southern Styria fascinates all year round. Discover the magic of the region. A Mediterranean heartland that touches your soul.
Joie de Vivre and a Passion for Pleasure
The good life, humour and good conversation. The happiness of the moment. Respect for creation. A passion for beauty and a weakness for delicious culinary delights: these are the things that inspire us anew every day. With the Golden Hill Country Chalets & Suites, we – Barbara and Andreas Reinisch – have fulfilled our life's dream, which we are only too happy to share with our guests. You can feel it. In every corner. You can taste it. With every bite, with every sip.